Ingredients:
3/4 cup dark chocolate chips (can also be dark chocolate cut into small pieces from a bar)
1 medium banana, peeled and sliced into 16 rounds
1/4 cup all-natural peanut butter, store bought or homemade
1 tablespoon melted coconut oil, (unrefined extra-virgin preferred)
16 (1.25-inch) baking cups
Directions:
Place a sheet of wax or parchment paper on the counter top for preparation. Set the baking cups on top.
Melt chocolate in a double-boiler or in a small sauce pan over low heat. Allow to cool slightly. In the meantime, combine the melted coconut oil and peanut butter.
Add approximately 1 teaspoon melted chocolate to the bottom of each baking cup, followed by one banana slice, 1 teaspoon peanut butter mixture, and lastly drop about 1/2 teaspoon melted chocolate in the center of each cup. Carefully place cups on a freezer safe dish or casserole pan. Cover and place in the freezer until set, approximately 1 hour.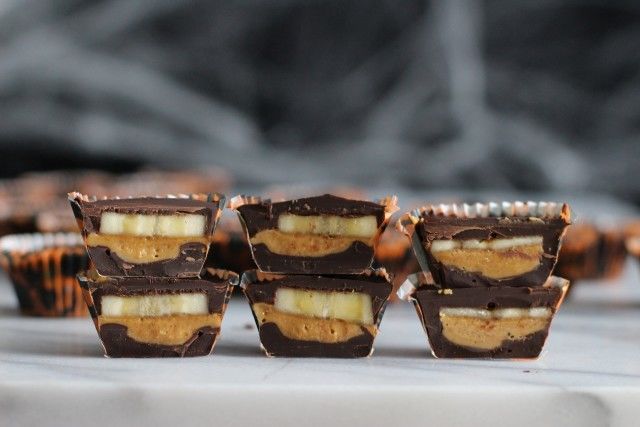 NOTE: Our perfectly portioned Peanut Butter Banana Cups thaw quickly. For best results, enjoy one at a time after allowing to set at room temperature about 2-3 minutes. To prevent the peanut butter mixture from softening too quickly, add 1 tablespoon powdered sugar to peanut butter and coconut oil mixture before adding to cups.
Notes 2:
Yields: 16 servings | Serving Size: 1 peanut butter banana cup | Smartpoints: 3
Nutrition information:
Calories: 69
Total Fat: 4 g
Saturated Fat: 2 g
Sodium: 15 mg
Carbohydrates: 11 g
Fiber: 1 g
Sugars: 7 g
Protein: 1 g