Ingredients:
3 cups nonfat beef broth (beef is the best) or 3 cups nonfat vegetable broth (beef is the best) or 3 cups nonfat chicken broth ( beef is the best)
2 garlic cloves, minced
1 tablespoon tomato paste
2 cups chopped cabbage
1/2 yellow onion
1/2 cup chopped carrot
1/2 cup green beans
1/2 cup chopped zucchini
1/2 teaspoon basil
1/2 teaspoon oregano salt & pepper
Directions:
Spray pot with non stick cooking spray saute onions carrots and garlic for 5 minutes.
Add broth, Tomato paste, cabbage, green beans, basil, oregano and Salt & Pepper to taste.
Simmer for a about 5-10 minutes until all vegetables are tender then add the zuccini and simmer for another 5 or so minutes.
I have tried different variations. Leaving out green beans. Adding chopped green onions in addition to the yellow onion.
All very good. You can customise it a bit.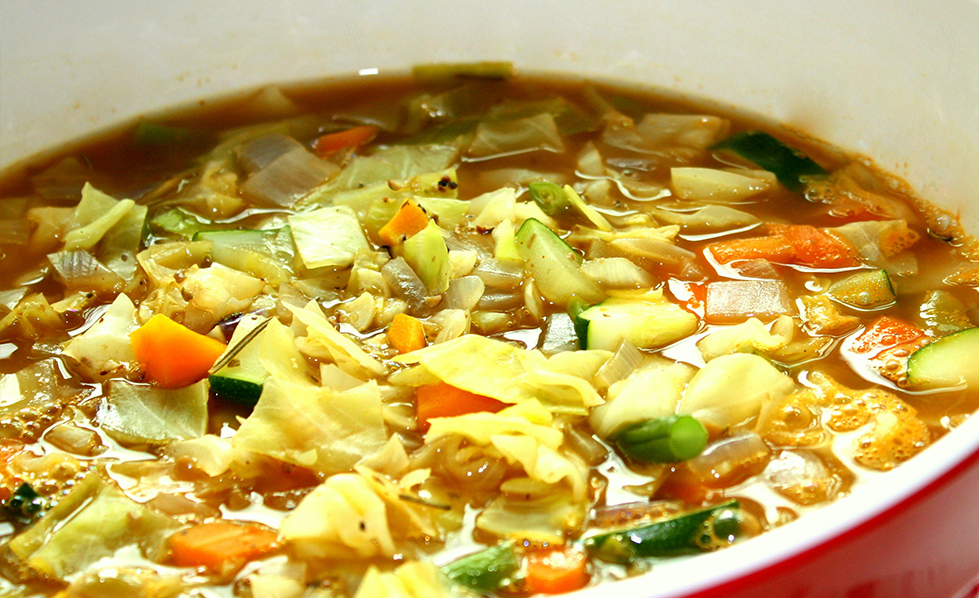 Nutrition Infirmations:
SmartPoints: 1 |Serving Size: 1 (79 g) | Servings Per Recipe: 6
Calories 21.9
Fat 0.1g
Saturated Fat 0.0g
Sugars 2.5 g
Carbohydrate 4.9g
Fiber 1.5g
Sugars 2.5 g
Protein 0.9g