Ingredients
1 small onion, diced
1 stalk celery, diced
2 carrots, peeled and sliced
1 zucchini, sliced
1 large potato, peeled and cubed
2 cups fresh or frozen green beans
1 cup fresh or frozen peas
2 cups kale, coarsely chopped (or other green leafy vegetable like spinach or chard)
2 cups vegetable broth or water (add 1 additional cup for a thinner Minestrone)
1 (15 ounce) can diced tomatoes, with liquid
1 (15 ounce) can kidney beans, drained and rinsed
1/2 cup vegetable or tomato juice
1 teaspoon kosher or sea salt
1/4 teaspoon ground black pepper
4 fresh basil leaves, diced
1/2 cup Parmigiano Reggiano or Parmesan
Directions
1- Apart from kale, basil, and parmesan, put into a slow cooker all ingredients. On low heat, cook           covered 5 to 6 hours and 3 to 4 hours on high.
2- Add kale, when the minestrone is cooked. Bring back the lid of the slow cooker until the kale is softened in about 5 minutes.
3- As the minestrone is ready to be served, scatter the top of each bowl with a little extra-virgin olive. 4- Sprinkle with Parmesan, Parmigiano Reggiano and fresh basil.
5- Half an hour before the end of cooking, add 1 cup of whole wheat penne pasta (optional).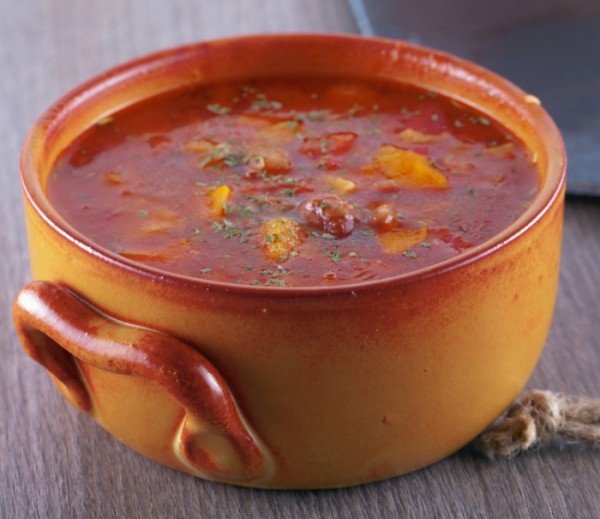 Nutritional information
Yields: 6 servings | Serving Size: 1/6th of recipe | SmartPoints: 8
Calories: 240 | Total Fat: 14 g | Saturated Fat: 3 g | Trans Fat: 0 g | Cholesterol: 7 mg | Sodium: 250 mg | Carbohydrates: 22 g | Dietary Fiber: 5 g | Sugars: 8 g | Protein: 8 g