Ingredients
4 teaspoons salt ( per recipe reviews, 2 tsp is better)
2 teaspoons paprika
1 teaspoon cayenne pepper
1 teaspoon onion powder
1 teaspoon thyme
1 teaspoon white pepper
1/2 teaspoon garlic powder
1/2 teaspoon black pepper
1 large roasting chicken ( with pop-up timer if possible)
1 cup chopped onion (optional)
Directions
In a small bowl, combine the spices.
Remove any giblets from chicken and clean chicken.
Rub spice mixture onto the chicken.
Place in resealable plastic bag and refrigerate overnight. (I usually skip this step because I'm always in a hurry).
When ready to cook, put chopped onion in bottom of crock pot.
Add chicken. No liquid is needed, the chicken will make its own juices.
Cook on low 4-8 hours.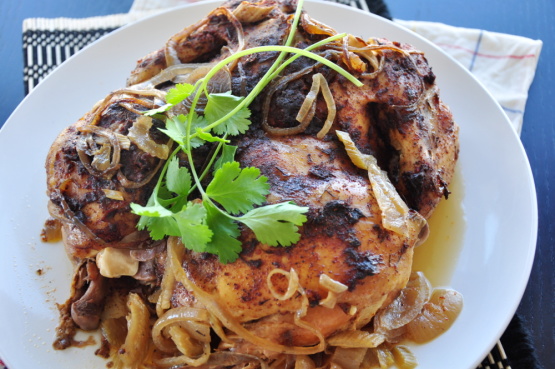 Prep Time: 15 hrs
Total Time: 23 hrs
Servings: 4
Nutrition Information:
Serving Size: 1 (196 g) | Servings Per Recipe: 4
Amount Per Serving
Calories 327.0
Calories from Fat 211
Total Fat

23.4

g

Saturated Fat

6.6

g

Cholesterol

106.9

mg

Sugars

0.2

g

Sodium

2426.7

mg

Total Carbohydrate

2.2

g

Dietary Fiber

0.8

g

Sugars

0.2

g

Protein

25.5g
SmartPoints: 9