Ingredients:
20 ounce bag of refrigerated shredded hash brown potatoes
4 tbsp light butter, melted.
1 tsp salt, divided
¼ tsp ground black pepper, divided
4 large eggs
½ cup fat free milk
4 ounce 50% reduced fat sharp Cheddar cheese, shredded
1 scallion diced
5 ounce diced deli ham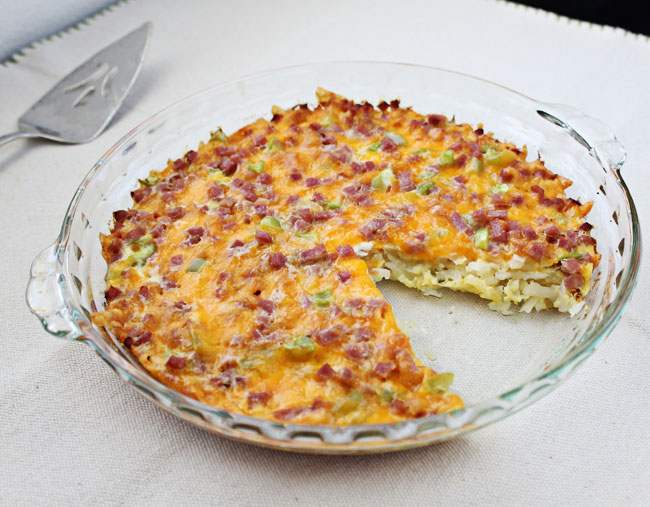 Directions:
Pre-heat the oven to 350°.
In a large mixing bowl Place the potatoes and drizzle with the melted butter.
Add ½ tsp of the salt and 1/8 tsp of the pepper & stir together until ingredients are mixed.
Place the potatoes to the pie plate & press them down across the surface of the dish and up the sides to form a "crust." Place the dish in the oven and bake for 35 to 40 Min.
Now Combine the milk and eggs together  in a mixing bowl until they are well combined.
Add the shredded cheese, ham, scallions and the remaining ½ tsp of salt and 1/8 tsp of pepper and stir together until thoroughly mixed.
after 35 min and When the crust is done, remove from the oven and pour the egg mixture into the crust, spreading the ingredients across but leaving a raised edge of crust all around the outside.
Return the pie plate to the oven for an additional 30 minutes (until eggs are set and the hash brown edges are browned).
Nutrition Information:
Yield: 8 servings| 183 calories | 16 g carbs | 1 g sugars | 8 g fat | 4 g saturated fat | 11 g protein | 2 g fiber | PP+: 5 | SP: 6