I'm in love with this side dish, i made it many times (i got it from skinnykitchen), easy, healthy and more than that is only 2 smart Points. To make this Wonderful Spaghetti Squash Recipe with Garlic Butter You need:
Ingredients:
1 small spaghetti squash (about 4-5 lbs)

3 tbsp light butter

1 tbsp garlic, minced

Salt and pepper, to taste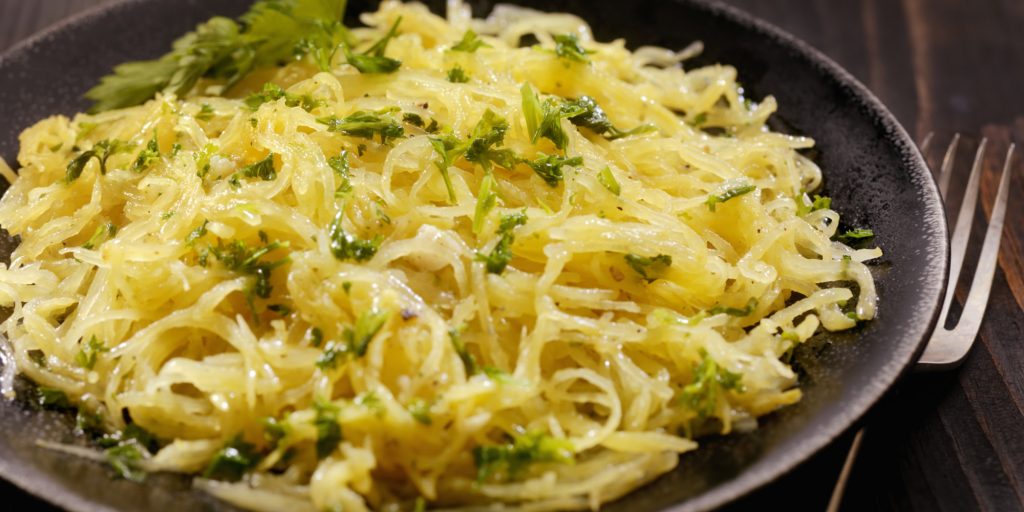 Directions:
This recipe have 2 versions: in the Crock pot and in the Oven:
To Cook in Crock-pot:
Place whole squash in crockpot and add a little water. Depending on its size, cook squash for about 2-3 hours on HIGH or 5-6 hours on LOW or until you can pierce the squash easily without resistance with a knife.
To Cook in Oven:
Preheat oven to 375 degrees. Using a paring knife, prick squash a few times to let the steam escape during baking. Line baking pan with foil and place squash. Bake for about 50 minutes or until sharp knife easily pierces through the skin without resistance. When its done, remove from the oven and cool for 10 minutes.
Slice squash in half, lengthwise from stem to tail. Scoop out the seeds and stringy bits of flesh in the mid section. Scrape long squash strands by using a fork and place in a strainer to drain excess moisture. Use dry paper towels to blot dry moisture if needed.

Heat a large nonstick pan over medium-low heat. Add in butter and garlic and saute for about a minute or until fragrant. Toss in spaghetti squash strand and coat thoroughly with the butter mixture. Add salt and pepper to taste. Serve warm.

Makes 4 servings
Prep Time: 10 minutes | Cook Time: 50 minutes | Total Time: 1 hour
Nutrition Information:
Serving Size: 1 cup
38 calories | 5g fat | 3g sat | 11g chol | 1g pro | 13g carbs | 3g fiber | 189mg sod | 5g sugar | 0g sugar | 0g protein | Smart Points: 2 | PP+: 3