Carrol Krause, a former reporter for the Herald-Times of Bloomington, Indiana, had to retire from her journalism career because of an ovarian cancer diagnosis in 2014. Before she passed away in February, she wrote a blog titled 'Stories by Carrol' highlighting the best and the worst of her last days.
A few months ago she started having digestive issues and could no longer eat normal food. What hospice workers brought her as meal replacements horrified her.
Krause writes: "Hospice had the very best of intentions, [but] the stuff they sent over was not real FOOD. In fact, I'm outraged at the idea that they feed this stuff to dying people."
What the hospice provided to Krause was a bag full of products by Ensure: pudding, shakes, and a drink that pretends to be apple juice.
All three are full of chemicals with about as much actual nutritional value as most commercial junk food, and these drinks are meant to be the nutritional lifeline for people who are extremely sick.
Ensure is owned by Abbott Nutrition, one of the worst examples of a Big Food corporation masquerading as a healthy alternative you'll ever see. The company has deep ties to the medical industry and as such you can find their products in just about every hospital today, which is bad news for millions of patients who are just trying to get healthier.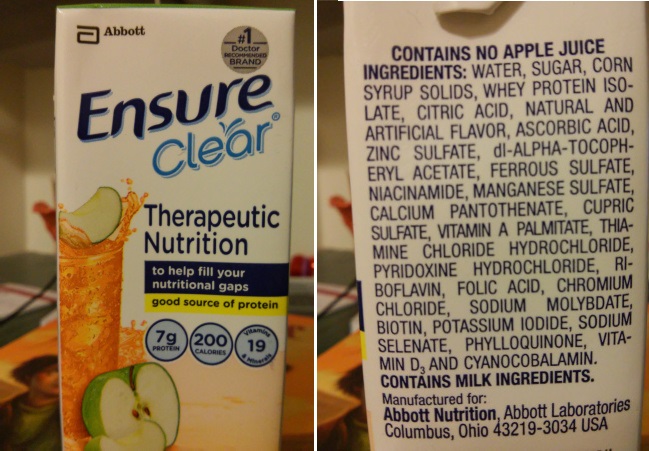 The Truth About Ensure
Ensure is a brand by Abbott that makes medical "nutritional shakes and drinks." It makes big claims to customers such as "#1 Doctor Recommended"  and "Worldwide Leader in Nutritional Science" but in reality their products are as far away from a healthy meal as you can get. Sadly, these products are often given to patients in extremely poor health, who need proper nutrition the most. Instead, when consuming these products they are receiving the following: preservatives, fillers, and chemicals.
To make matters worse, Abbott Nutrition is a member of the notorious pro-GMO organization the Grocery Manufacturers Association, and to date has given nearly a million dollars to fight against GMO labeling in the United States.
Does this sound like the type of company whose products you should be feeding your loved ones? After you see these products and their ingredients you'll have the answer.
Click NEXT To Continue…