Most of us fall asleep soon after laying our heads on our pillows. But many people have trouble going to sleep at a reasonable hour every night.
Although the National Sleep Foundation recommends getting seven to nine hours of sleep per night, most people sleep an average of only about six hours. In fact, more than 50 million Americans don't get enough sleep.
Enjoying a good night's sleep is very important for your health. It will help you be happier, keep your brain sharp, strengthen your immune system, keep your waistline trim, make your skin glow and lower your risk of high blood pressure and heart disease.
If you are having trouble sleeping, there may be a very simple solution. Certain foods can greatly increase your odds of a successful night's slumber.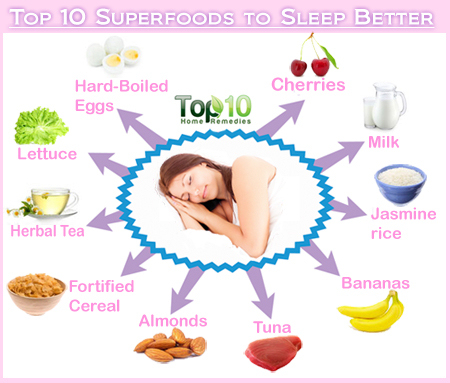 Here are the top 10 superfoods to help you sleep better.
1. Cherries
Cherries contain a good amount of melatonin, the chemical that helps control the body's internal clock. According to a study published in the Journal of Experimental Botany, eating a handful of cherries, especially tart cherries, a few hours before going to bed will help you sleep better.
If fresh cherries are not available, you can opt for cherry juice or even dried or frozen cherries. According to researchers from the universities of Pennsylvania and Rochester, people with chronic insomnia must drink a cup of cherry juice twice daily until their condition improves.
Click NEXT Button below to continue…