Before starting this journey, I battled weight issues my entire life. I tried to establish healthier habits through programs like Weight Watchers, but had no luck. Things worsened when I became pregnant in 2014 and started experiencing thyroid issues. Over the course of that pregnancy, I gained 125 pounds. When I had my daughter that September, I was my heaviest at 375 pounds.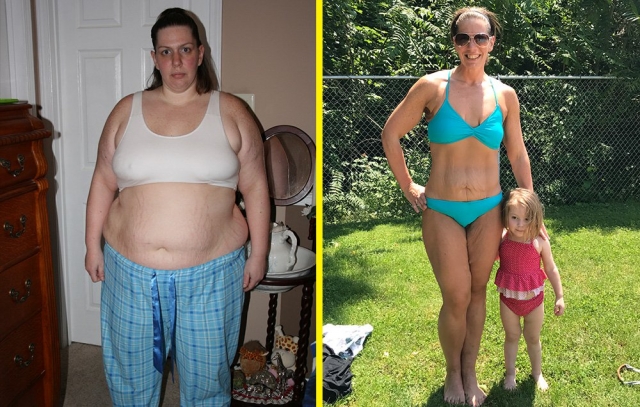 I struggled through some of the simplest parts of life. I couldn't fit behind the steering wheel of our car, so we had to buy a new one. I had to take breaks going up just two flights of steps. Getting dressed was a chore, especially when it came to footwear. I couldn't tie my own shoes, so I ended up wearing crocs all the time because they were easy to slip on. During this time, I was severely depressed.
THE CHANGE :
I felt miserable and trapped. Over time, it started to seem as though ending my life would be easier than changing it. The day before I decided to make a change, I had a nervous breakdown after getting on the scale in my bathroom. It was paralyzing. But then I heard my daughter cry and that was a sign that told me to stay and fight to change my life. After that day, I chose to do something for myself. Every choice I made from that point on has moved me away from that day in the bathroom.
CLICK NEXT BELOW TO CONTINUE READING…