This very simple casserole is made with sausage, cream cheese, and Hashbrown. If you have hectic mornings, you can bake it at night and just cut and reheat portions the next morning in the microwave.
This Recipe adapted from plainchicken.com
Ready in 40 to 50 Min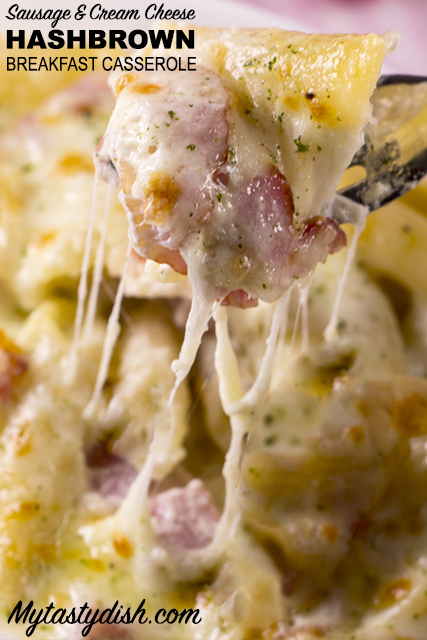 Wonderful, All i can see about this Sausage & Cream Cheese Hashbrown Breakfast Casserole is Amazing, Please Feel Free to pin it for later.
To Make this Morning Casserole You'Il Need the following ingredients:
Ingredients:
2 pound hot breakfast sausage
2 "8-ounces" packages cream cheese
1 "33 ounces" bag frozen hash browns
1 Teaspoon of salt
1/2 Teaspoon of pepper
1/4 Teaspoon of garlic powder
1/4 Teaspoon of onion powder
2 cups of shredded cheddar cheese
8 whole eggs
2 cups of milk
Directions:
Prepare the oven to 350°
Cook sausage until no longer Red in a large frying pan.
when cooked Stir it with cream cheese and put it aside to use it later.
Add hash browns to the large skillet and cook until is brown.
Place hash browns in bottom of pan and then top with sausage and cream cheese mixture & shredded cheddar cheese.
Whisk together eggs and all the rest of ingredients pepper, salt, onion powder, milk and garlic powder.
Pour over hash brown mixture.
Bake for 30-40 minutes.
P.S. you can cover and refrigerate before baking it if you want to bake it later.
P.S. 2. uncover it before baking it.
Please make sure to Like and share this Recipe with your friends on Facebook and also follow us on facebook and Pinterest to get our latest Yummy Recipes.