I promise you this comes out perfect. Make sure NO ONE OPENs THE OVEN DOOR. I all so use other beef roasts; works sooooo good. I remember I was very scared to do it the first time but I went ahead and did it. OMG… What a wonderful way to cook beef.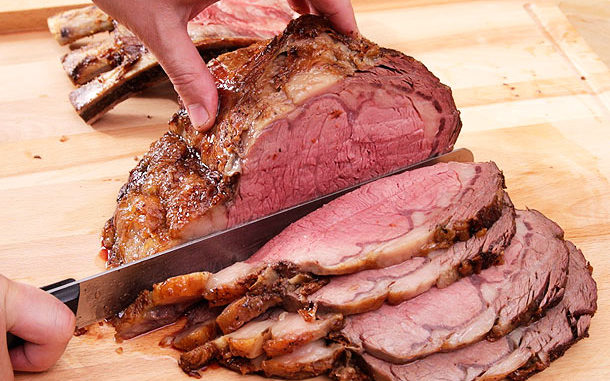 A perfect entree for your holiday meal or a special occasion. Your guests are guaranteed to feel special when they sit down to this meal.
The key is to make sure that you start with a clean oven when using this high temp. Also the Test Kitchen oven only goes up to 500. So, we baked at that temp for 5 min a pound. I like my prime rib on the rarer side, and it came out perfect!
To Make this Recipe You'll Need the following ingredients:
Ingredients
1 prime rib roast with or without bone (any size)
Garlic powder
Salt
Pepper
Directions
Preheat oven to 550F degrees.
Make a rub of salt, pepper and garlic powder and apply to meat. Place meat in a shallow roasting pan fat side up.
Roast at 550 at 5 minutes per pound for RARE, or 6 minutes per pound for MEDIUM and 7 minutes per pound for WELL DONE.
Turn off oven at the end of cooking time and DO NOT OPEN OVEN DOOR FOR TWO HOURS.
At the end of the 2 hours, remove meat from oven to slice; it comes out perfect everytime.
Works the same with Roast beef. Try it you won't be disappointed.